Rcapital Partners LLP is committed to protecting and respecting your privacy.
This policy (together with our Terms of Use and any other documents referred to in it) sets out the basis on which any personal data we collect from you, or that you provide to us, will be processed by us. Please read the following carefully to understand our views and practices regarding your personal data and how we will treat it.
For the purpose of the General Data Protection Regulation (GDPR), the data controller is RCapital Partners LLP of – 4th Floor, 24 Old Bond Street, Mayfair, London, W1S 4AW
INFORMATION WE COLLECT FROM YOU & WHY
We may collect and process the following data about you:
If you contact us directly or via our website, we may keep a record of that correspondence and your name, contact details.
When you access your Rportal via our website we will ask for your username and password.
Name, contact details, dietary requirements and photograph for our Rbike Ride initiative.
Name, contact details, employment details, financial information when provided to us in the course of our investment due diligence and management information process.
Name, contact details, qualifications, job title, employment history, salary details/expectations, if you send us your CV in connection with a current or future position at Rcapital
SOURCE OF INFORMATION
We may receive and process information about you from:
yourself (data you provide)
Your employer
LAWFUL BASIS
Our lawful basis for processing this data is:
Our legitimate interest to communicate with clients in the normal course of B2B business
If we complete a transaction, negotiate a contract or enter into a contract – our contractual and/or our legal obligations (for example under the Finances Act 2008)
Legitimate Interest, where your personal data is provided to us by your employer for the purposes of due diligence in the course of negotiating a contract.
Legitimate Interest for the purpose of recruitment.
The consequences for you if we are unable to process this data would be:
We would not be able to enter into a contract with you or provide any services to you.
We may not be able to fulfil or regulatory or statutory obligations.
RETENTION
When you enter into a contractual arrangement or complete a financial transaction with us, we may retain information for up to 7 years to meet our legal obligations (for example under the Finances Act 2008).
Where we process or access your personal data for due diligence purposes, we will retain your personal data for no longer than is necessary for that particular purpose.
Where you have applied or are interested in working for RCap, we will retain your personal data for 2 years unless you request us to delete it beforehand.
RECIPIENTS
To the extent that is necessary to meet our legal obligations and manage and satisfy our contract with you, your data may be shared with:
our software and IT providers
our Anti-money Laundering Check providers
tax authorities
bankers
brokers, solicitors and other professional advisors
Financial Conduct Authority
USES MADE OF THE INFORMATION
We use information held about you in the following ways:
negotiation of a possible contract
to carry out our obligations arising from any contracts entered into between you and us
to notify you about changes to our service.
DISCLOSURE OF YOUR INFORMATION
We may disclose your personal information to third parties:
in the event that we sell or buy any business or assets, in which case we may disclose your personal data to the prospective seller or buyer of such business or assets
if we or substantially all of our assets are acquired by a third party, in which case personal data held about our customers or users will be one of the transferred assets
if we are under a duty to disclose or share your personal data in order to comply with any legal obligation
THIRD PARY WEBSITES AND APPS
Our Website may, from time to time, contain links to and from the websites of partner networks, advertisers and affiliates. If you follow a link to any of these websites, please note that these websites have their own privacy policies and that we do not accept any responsibility or liability for these policies. Please check these policies before you submit any personal data to these websites. The relevant privacy notices can be found here – LinkedIn – Google
IP ADDRESSES AND COOKIES
We may collect information about your computer, including where available your IP address, operating system and browser type, for system administration and to report aggregate information and for the functioning of our website.
RCapital uses first-party cookies (such as the Google Analytics cookie)
You may opt-out of Google Analytics by rejecting cookies when visiting our website.
You may set most browsers to notify you if you receive a cookie, or you may choose to block cookies with your browser
For more information, please visit www.cookielaw.org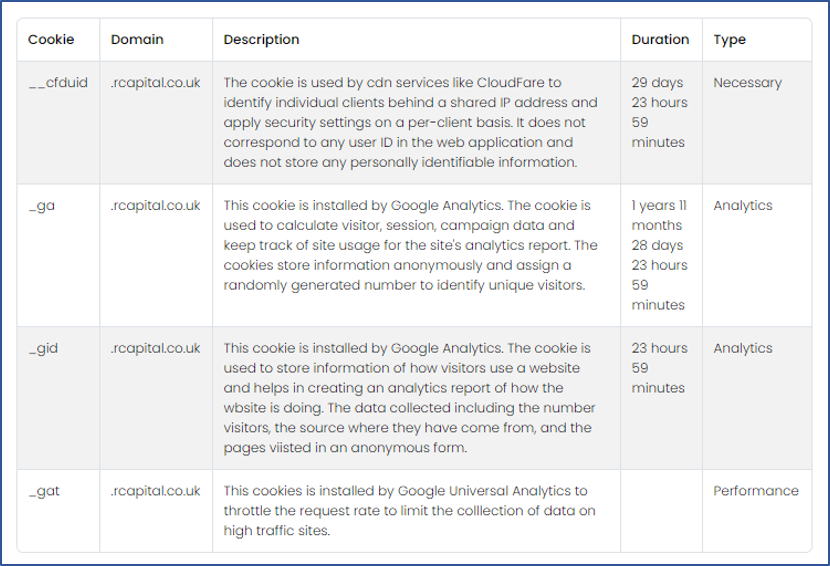 YOUR RIGHTS
You have the following rights with regard to your personal data:
Access – you may request we provide you with the data we hold
Rectification – you may request we correct any inaccurate data
Erasure – you may request we erase your data
Restriction – you may request we process your data only for specified purposes.
Objection – you may object to us processing your data
Portability – you may request we provide you or a nominated party with your data in an electronically readable format
You can exercise your rights at any time by contacting us at [email protected]
You also have the right to lodge a complaint with the Information Commissioner's Office.
CHANGES TO OUR PRIVACY NOTICE
Any changes we may make to our Privacy Notice in the future will be posted on this page and, where appropriate, notified to you by e-mail.
CONTACT
Questions, comments and requests regarding this Privacy Notice are welcomed. Our Data Protection Officer can be contacted as per the details above or [email protected]